Ko Puke-nui-o-Raho te maunga teitei;
Ko Tauranga te awa;
Ko Ngati Raka te hapu;
Ko Tuhoe tooku mana;
Tuhoe moumou kai, moumou taonga,
moumou tangata ki te Po;
Ko Mataatua te waka;
Ko Te Pou Papaka te tangta;
Ko Tatai-a-hape te marae;
Ko Marama Clair Stewart tooku ingoa.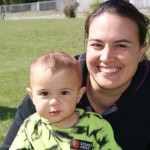 My name is Marama Stewart (nee Te Pou).  I am 35 years old and am married to my husband Cody Stewart and together we have our little monkey, Tawhio.  We live in Waiouru, which is in the centre of the North Island of  New Zealand, with our two over-indulged cats. I am the Principal of Waiouru School, a U3 school with 105 pupils and growing.  This is my second principal-ship, with my first being at the tiny, sole-charge school Pukeokahu.
My brother and I spent our high school years in Palmerston North.   After leaving school I attended Manawatu Polytechnic.  I completed a Sports and Coaching Qualification before spending several years working in the Hospitality Industry; until finally ending up in Whakatane in the Eastern Bay of Plenty.
At the age of 22 I rediscovered my interest in Education and attended Te Whare Wananga o Awanuiaarangi in Whakatane.  I completed my Bachelor of Maori Education in 2005.  My first significant teaching position was spent three years teaching at Russell Street School, Palmerston North where I was able to expand my eLearning potential.
I love to read and have, much to my husband's concern,  an ever expanding library.  While I enjoy reading a wide variety of genres, I must admit that Science Fiction and Fantasy are my favourite indulgence.  I also love picture books and have a large collection of both general and sophisticated picture books.  Recently I have also become a big fan of audio books, which are slowly over taking the music storage on my iPhone.
Creativity is an important outlet for me, with visual art being my favourite form of expression (this is also because I can neither sing nor dance).  Over the past couple of years I have discovered Quilting.  While this is an unusual past time for my fellow "Gen Y" members.  However I thoroughly enjoy quilting and have completed five quilts in the past year and a half.
I am a keen sports person.  I can play and coach a variety of sports including, Basketball, Volleyball, Cricket, Soccer and Netball.  I love to ski having learnt while working for a season at Whakapapa in 2000.  I am also lucky enough to spent sometime skiing in Japan, which was wonderful.  My other past times include walking, fishing and cooking.  Though I must admit that fishing is more my husbands passion, I generally join in for the Vitamin D and Essential Fatty Acids.
I love making mini movies, especially about student learning and school events.  Unfortunately due to privacy restrictions I can not share any on this blog.  However, here is a fun one I made for our family blog.  It is of an outing up Mt. Taranaki, with my Aunty, Uncles and Cousins.  My uncle was not impressed that he was the unwitting star of this movie but I am sure he will get over it the next time he needs a babysitter.  😉  As you would of probably guessed, my family means a lot to me and I feel it is important that I express this when writing about myself.
My Personal Education Statement
Growing up in a world full of books and discovery sealed my destiny to become a teacher.  This background continues to shape my adult life, fueling my passion to give children the same opportunities to which I was privileged as a child.  As a teacher it is my duty to stimulate the desire and provide the tools which will enable children to be creative, independent learners in the 21st Century.  It is also my belief that we should encourage children to respect themselves, their peers and their environment.  It is our job to help children discover their wings so their can fly.
Thank you for taking the time to get to know me. 😀